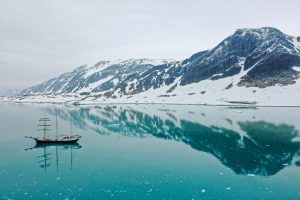 I'm just back from three weeks in the high Arctic, and slowly dipping my toes back into my default world.
I had the privilege of taking part in the Arctic Circle Residency with 27 other artists and researchers, as we traveled around Northwestern Svalbard aboard the tall ship Antigua. I am continuing work on my series "The New Arctic", but also took plenty of time to simply appreciate the immense scale, and boundless beauty of this unique corner of the globe.
The remote locations we were able to visit and the support we had from our guides and crew were phenomenal. And the group of artists I was working with are all incredibly talented, across a wide array of forms, and all excellent people to boot. I feel incredibly lucky to have had this opportunity and I look forward to sharing images and stories from my voyage in the coming weeks.